AJAR seeks to empower national and regional partners seeking to end impunity, establish a base of accountability and defend human rights by providing them with opportunities to increase their skills and knowledge, strengthening the organizations they work in, and helping them to access the resources they need for their work.
AJAR focuses its work on countries of the Asia Pacific region –currently in Indonesia, Myanmar, Timor-Leste and Sri Lanka, which are in various stages of transition from dictatorship or other forms of authoritarian regime to democracy. In these contexts, change is dynamic and fragile, with significant danger of backward movement. AJAR also focuses on broader South-South learning opportunities including regional trainings and learning exchanges.
Trainings and Workshops: AJAR operates a full-time residential learning centre in Bali, Indonesia. Trainings held at the centre include transitional justice in the context of Asian transitions, strategies for addressing gender-based violations particularly in conflict areas, empowering youth human rights defenders, religious tolerance in transitional contexts, participatory research methods for survivors of human rights violations, healing methodologies for survivors, using film, photography and new technologies for human rights and transitional justice work.
Research and Advocacy: AJAR works in partnership with a range of organizations involved in advocacy and seeking justice for human rights violations. For example, in Indonesia, we worked with over 50 national organizations in Indonesia on the Year of Truth campaign in 2014, including public hearings, media activities and a completion of a significant report on mass human rights violations in that country.AJAR provides research training and support to human rights defenders and survivors. We have developed tools of participatory research and healing that are being used in several Asian countries. Survivors have a unique role in being able to share and record the stories of other survivors and AJAR works to increase the capacity to do so, and to share the products appropriately.
Strengthening and Supporting Local Partner Organizations: Human rights defenders and survivors are far more effective in achieving their goals if they work together in groups and networks. Survivors are often the forgotten piece of the transitional justice puzzle. AJAR seeks to support survivors efforts to achieve social and economic well-being of survivors as well as truth and justice. For example AJAR works in a multi-year partnership with the victims association in Timor Leste. This work has helped to open the channels for government assistance and small scale economic support for survivors, as well as focusing on advocacy for accountabiliyt and a national law on reparations.
Learning Exchanges: With a particular focus on South-South sharing of lessons and experiences, AJAR has facilitated exchanges between survivors, civil society and policy makers in the region. For example AJAR hosted an exchange of 26 members of parliament from ethnic and conflict areas of Myanmar to Jakarta, to share lessons learned from the transitions, and runs multi year programs bringing together key stakeholders to deepen knowledge and cooperation and strenghten networks.In a range of programs AJAR uses a framework of identifying key actors from different countries or national contexts that will involved in long term work on an issue. They are invited to participate in lesson sharing and capacity building activities at the AJAR residential training centre. The participants then return to their context where they are supported to implement activities. Following this they come together again several times to deepend skills, relationships and networks and are supported in small scale activities.
Using innovative and participatory methodologies: AJAR trains human rights defenders, survivors and youth groups in writing skills, use of camera and video and encourages their use of social media and new technologies. Radio and television are still the major source of information for most of the population in the countries where we work.In Myanmar, AJAR worked with national partners created and wrote an 8 hour television drama that commenced broadcasting on the largest national television network in March 2015. The star of the series is a female legal aid lawyer in a small office dealing with problems from a local village and small town. Episodes focus on domestic violence, environmental pollution, land rights, human trafficking, corruption, freedom of speech, workers rights, elections. These issues are mixed through drama and intrigue includingt love triangles, a streetkid who becomes a football star, village rivalries and an a crony who wants to dam the river and flood the village to build a mine.
Providing technical assistance: AJAR staff and other international and regional experts in the field of transitional justice, human rights, legal aid and gender justice work with national policy makers and civil society to increase capacity and effectiveness of interventions. Trainings and workshops have included senior government officials, members of parliament, judges, religious leaders and members of national human rights institutions.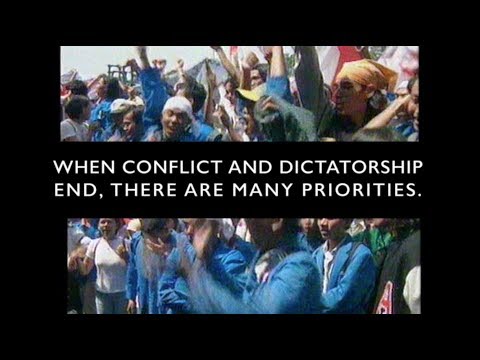 Human rights defenders in Asia face many challenges. How should societies in the Asia region respond to extrajudicial killings, military dictatorships... Read more